At an entry-level job, a specialized certification is a great way to assure the capability and skill of a medical assistant. Gaining a certification in medical assisting is completely optional. It is a personal choice of a medical assistant even though it is powerfully backed up by the major certifying organization known as the 'American Association of Medical Assistants (AAMA)' and several other certifying organizations. However, in most cases, employers and companies prefer or intentionally look for the certified medical assistants during the hiring process. In the USA, there are 4 main organizations or associations that officially state (or certify) the medical assistants.
Major professional organizations offering certification to Medical Assistants
There are top 4 professional organizations for Medical Assistants in the United States of America that authentically offer certifications:
1. American Association of Medical Assistants (AAMA)
2. American Medical Technologists (AMT)
3. National Healthcare Association (NHA)
4. National Center for Competency Testing (NCCT)
Chief certifying bureau for the Medical Assistants in USA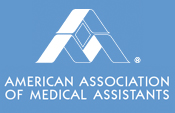 There are 4 major certifying organizations for Medical Assistants. However, the 'American Association of Medical Assistants (AAMA)' has the CMA title with capital letters patented. Further, the AAMA is considered to be the chief organization that offers certifications to countless medical assistants in U.S.A. Some other organizations that aim to certify or endorse the Medical Assistants are not permitted to make use of the CMA title along with capital letters. On the other hand, one should not consider that (several) other medical assistant certifications are not valid by the same token or not the preferred ones. In actual fact, a lot of of medical assistants who got their certification through any other recognized organizations are also extremely skilled, appreciated, valued and sought after by several companies and employers. One more important point that needs to be noted, even though AAMA and AMA give the impression of being the same and even though they both sound alike for most of us, the 'AAMA' is definitely not an element or same as the 'AMA'- the American Medical Association.
Website: aama-ntl.org
Organization responsible for offering RMA certification
The 'American Medical Technologists (AMT)', a non-profit organization or bureau is mainly in-charge for offering the Registered Medical Assistant (RMA) certification for those candidates who prefer this type of official recognition. Starting from the year 1972, the American Medical Technologists (AMT) is considered to be the first established certification agency to offer this RMA certification. However, the American Medical Technologists (AMT) have its own principles, working groups, regulations, state subdivisions, registrations, higher officials, and re-legalization examinations in RMA certification. In order to become an eligible candidate to embrace the designation of a Registered Medical Assistant, a student should attend and successfully pass a medical assisting set of courses at a recognized training school that is accredited by either CAAHEP or ABHES. Otherwise, he/she should have gained a minimum of five years experience as a medical assistant. Only then, the title or designation 'RMA' follows that particular candidate's name.
Website: americanmedtech.org
Other certification organizations
National Healthcare Association (NHA) is an additional organization that has been emerging fast all over the USA. The National Healthcare Association (NHA) also provides preparation and certification in 10 allied health professions. The NHA has offered more than two hundred thousand certified health professionals in a number of the health care line of work. The NHA grants certification for the medical assistants under the medical and administrative category. In addition, this organization seems to be the solitary organization that breaks up the medical assistant certification in 2 different groupings:
1. Certified Medical Administrative Assistant (CMAA)
2. Certified Clinical Medical Assistant (CCMA)
Besides, the NHA offers certification in 'Phlebotomy' also.
Website: nhanow.com
National Center for Competency Testing (NCCT) is one more organization that offers examinations so as to certify several exceedingly skilled Medical Assistants. The title that the medical assistants receive after passing their examination (and the background check for appropriate schooling and/or number of years of acknowledged experience) is known as the National Certified Medical Assistant (NCMA). The National center for competency testing was established in the year 1989. Since then, this is a self-governing, intermediary organization that has given authorization for more than two hundred thousand medical assisting candidates by conducting examination all over the United States of America. The NCCT was established as a self-governing certifying bureau in order to stay away from any commitment to a particular organization or alliance. At the same time, the National Center for Competency Testing (NCCT) is proficient to efficiently work with numerous organizations. At one fell swoop, it also remains free from any outside prejudice, commitments, partiality or schedule.
Despite the fact that a few certifying organizations offer habitual, lifetime official recognition (or certification) to candidates who pass an only one examination, NCCT does not entertain this policy in its organization. As a rule, candidates who obtain their certification from the National Center for Competency Testing are expected to complete a bare minimum of fourteen clock hours of ongoing edification on a yearly basis in order to uphold their active status. This provides the employees and the community with a reassurance of their promise to stay up-to-date in their healthcare line of work. In addition, the NCCT offers certifications to several technicians in different health care fields such as, Pharmacy technicians, Phlebotomy Technicians, Electrocardiography (ECG) Technicians.
Website: ncctinc.com
National Board of Medical Examiners
In essence, the National Board of Medical Examiners conducts scores of national examinations for doctors and physicians all over the country. A medical assistant can acquire certification by means of taking a CMA (AAMA) certification examination that is presented by the 'AAMA certifying panel' in association with the National Board of Medical Examiners. The CMA (AAMA) examination is presented all over the year at several computer-based (online) examination hub's all over the United States of America.